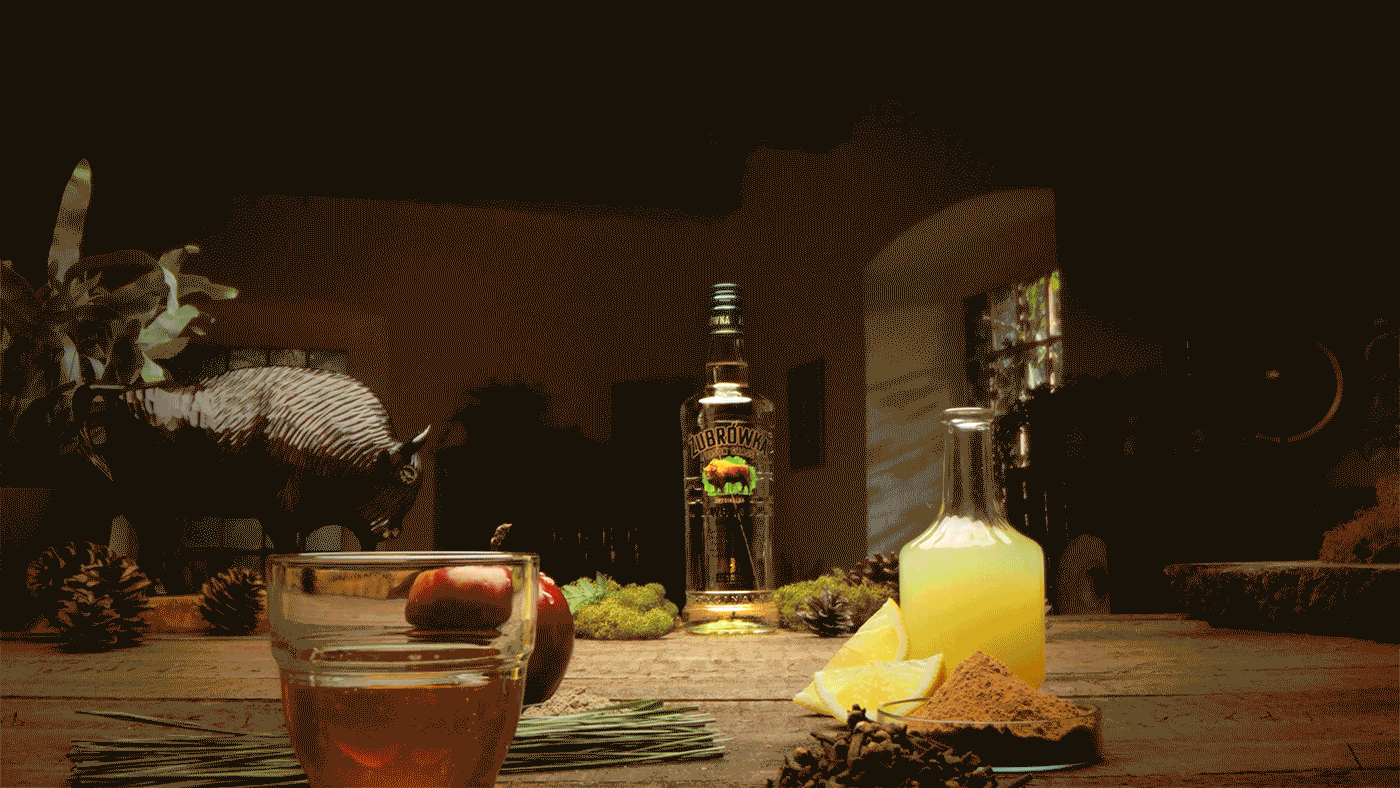 Two locations: a modern studio and an old mill. First one is equipped just like Batman's garage and the second probably remembers the times before the Industrial Revolution. We managed to squeeze every last drop out of both places' potential.
In the fully controlled environment of the studio, we shot the bits that required the highest precision. We installed the camera on an arm and set it in a circle motion. In the old mill, the vibe was the most important. 
Our set designer understood the character of the brand perfectly. Thanks to her diligent work, the interior of the mill turned into a space wonderfully corresponding to the Żubrówka brand.

Great work between the client, the agency and Mishka was managed by Paweł and Małgorzata from Golden Submarine agency. Adding our flexible team to the mixture allowed us to make the most of our time on the set and create juicy shots. Our remote workflow was incredibly well developed — the client could actually give comments and feedback on the spot and accept the material. Also, working with Michał - Żubrówka's main bartender and ambassador - was pure pleasure.
Four electric souls joined their forces to work on Żubrówka Bison Grass project:
Michał Rachlewicz/Mishka.pl - producer
Michał Oziewicz/Mishka.pl - director
Kinga Dembińska - set designer
What turned this production into a wonderful adventure, was a rotary table that we designed and constructed ourselves. The table made everything we planned possible. 
We wouldn't have anything to brag about if it weren't for Filip's exceptional cinematography skills. Well, maybe about the rotary table!
Each montage was completed with animations. They introduce the viewer to the atmosphere, present the historical background and clearly describe the ingredients of the cocktail.
On the set we followed the sanitary regime. Additionally, each team member was COVID-19 tested, which allowed everyone to verify their health before entering the set.
for Żubrówka
Producer: Michał Rachlewicz / Mishka.pl
Direction: Michał Oziewicz  / Mishka.pl
Executive Producer: Maciej Szwarc
Set designer: Kinga Dembinska
Food Stylist: Anna Bobrowska
Animation: Dawid Kamiński  / Mishka.pl
Animation: Nela Konieczka  / Mishka.pl
edit&color Michał Oziewicz /  / Mishka.pl
Stylist: Anna Piasecka / MOODBOX
Set assistant: Marcin Szymandera
Lighting: Stern Pictures, studio szeroko